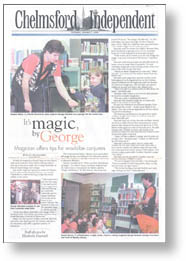 It's Magic by George
Magician offers tips for would-be conjurers
by Scott MacEachern

Would-be magicians should head to the library and crack a book or two before taking a stab at sawing someone in half says George, of Dracut-based Magic by George.
Last week, George dazzled a horde of Chelmsford youths at the MacKay Library. As a result, Chelmsford could be facing a magician boom within a few years.
"Like most kids I got my first magic kit and was bit by the bug," George said during an interview. George said he began learning the tricks of his trade at his town's library. He believes books are the greatest magic teaching tool.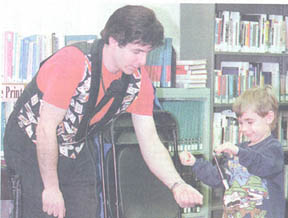 "Go to the library and take out a magic book," George said. "My library probably didn't have any magic books on the shelf because I took all of them out."
"Magic can be a pricey hobby," George said. "For someone just starting out, the library can save a lot of money and offer a greater variety of resources."
George said that books are helpful because they teach budding magicians how to use everyday items for tricks instead of buying special gear.
"With many of the books you can use things for magic that your find around the house," George said.
George said young magicians should watch as many veteran magicians as possible. He said watching magicians and training under them was one of the ways he got his start.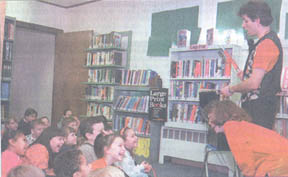 "Watch as many magicians at you can," George said. "It is more fun for kids to learn from the inside out."
George said magicians work in a close circle, belonging to such organizations as the Internal Brotherhood of Magicians and the Society of American Magicians. He said they are always willing to accept and teach new illusionist.
"Once you get to a certain level all the doors are open, " George said.
George said it takes a lot of work and practice to become a master magician.
"The easy part is learning the tricks."
George he studied magic for 15 years and made it his career 10 years ago.
He has entertained people from all around the world--from cruise ships to ice shows. He even appeared in the movie Good Will Hunting.
The MacKay performance was geared to make children laugh as well as fool them with illusions, George said.
George said one of his favorite children's tricks involves a wilted flower that mysteriously comes back to life whenever he turns his back on it. The flower wilts again as soon as he looks at it. He said hearing the children scream and laugh as he clowns around with the mischievous flower is one of the best parts of his job.
"I play off the children's energy and it raises my energy a bit," George said. "I focus on their energy and channel it."
George's favorite adult trick is called the Twister. In the trick, George's assistant steps into a box and he creates the illusion that he can twist her head and body around 360 degrees. The trick is underscored with Chubby Checker's song "The Twist."
"This is like having a favorite hobby and making a living out of it," George said.


----
The Chelmsford Independent
Town Common Section


Back
Home --Awards --Credits --Reviews --Articles --Shows --Contact
---
Copyright © Magic By George. All rights reserved.

Phone: 978-937-5900